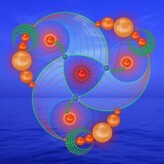 June 5-11, 2018 Clever Mercury and the busy Gemini Sun will square tuned in/out Neptune this week. Things that are unclear are that way for a reason. Though we may not see it now. Trust your confusion. Let it be busy bee.
We are in the middle of Gemini Season. Make the most of the urge to go and do and move. Your mind is fast and your communications impressive.
Relationship loving Venus is in Cancer. An urge to turtle may be competing with your need to take on outside responsibility.
You can take the Everyday Astrology Podcast with you anywhere! subscribe on iTunes or Google Play to get every episode automatically. Please be sure to leave us a review as well!
If you would like to find out more about your chart or have a question about astrology you would love the answer to, please do connect with me at